Nevada City musician, producer and broadcaster Paul Emery has been selected as the recipient of the 27th Annual Col. William H. "Bill" Lambert Award.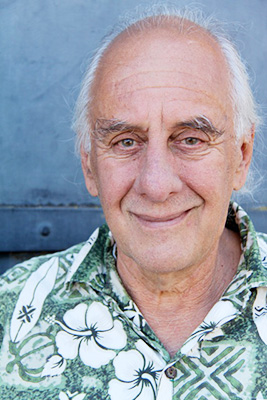 The prestigious Lambert Award is presented annually by the Famous Marching Presidents of Nevada City to recognize outstanding contributions to Nevada City and the Nevada City way of life. The award is named in honor of the late Col. William H. Lambert, founder of Nevada City's annual Constitution Day Parade.
The Marching Presidents announce the award each year on the eve of the annual Constitution Day Parade, in which they participate. This year's 50th annual parade rolls down Broad Street beginning at 2 p.m. on Sunday, Sept. 11.
Emery's selection was announced by Marching Presidents founder and organizer David Parker, who commented, "Nevada City has become known as a center of culture here in Northern California. Paul Emery has played a huge role in that. He has promoted local artists and brought many outstanding musical talents to our unique foothill community. All the while, he has been a driving force behind our community radio station KVMR."
Emery, based in Nevada City since 1976, pursued a career as a musician, playing locally and touring for many years with his group, Backwoods Jazz. They did four European tours and played for the Queen of England during a state visit to Sacramento.
During the 90s, he focused his efforts on musical production and has since produced hundreds of shows in Nevada City and Grass Valley. He produced the former North Columbia Folk Festival for six years and spent several years with Center for The Arts. Most recently, Paul Emery Productions has been putting on the "Nevada City Live" series and "1000 Kisses Deep: The Songs of Leonard Cohen," both now in their fifth year.
He has been an active broadcaster at KVMR since 1998. He hosts the weekly Tuesday Morning Show (7-10am) and has served as the station's news director since 2009.
"The Famous Marching Presidents are very proud to honor Paul Emery with our 27th Annual Lambert Award," said Parker.
"I am very honored," said Emery. "I'm into community life and doing things for the community. It's just what I do. I love this town. It's wonderful and endlessly engaging. There are lots of people like me. We're all doing something for our community and that's what makes the community what it is."