Women's Right to Vote 19th Amendment Monument to Honor Aaron Sargent and Ellen Clark Sargent
" Every town needs a statue."  David Parker, founder of The Famous Marching Presidents.
The Famous Marching Presidents turned 25 in 2012, and in honor of their 'Silver In The Gold Country Celebration', the group announce plans to erect a monument to Nevada City's Aaron and Ellen Clark Sargent. This important 19th Century couple were major women's rights advocates.
In 1878, U.S. Senator from California Aaron Sargent, introduced the first constitutional amendment to grant women the right to vote. Though individual western states such as Wyoming, Montana, Washington, and finally California passed voting rights for women, the United States would not give women the right to vote until 40 years later, with the passage of the 19th amendment during Woodrow Wilson's presidency in 1920. Every word of the amendment were those originally created by Senator Sargent.
The Sargent's house still stands at the top of Nevada City's Broad Street. In the early 1850's, during the formative years of Nevada City, a young Aaron A. Sargent worked as a news paper-man at the Nevada Daily Journal. He later would become editor and owner of the Nevada City paper. He became Nevada County's district attorney in 1856.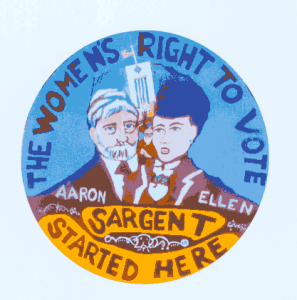 Sargent served in the U.S. Senate from 1873 to 1879. He met Susan B. Anthony on a train ride and thereafter he and his wife became fast friends with her. At one point the senator sprung her from jail when she was arrested for refusing to pay a fine when she attempted to register to vote. In the later years, Ellen Clark Sargent became one of the leaders of the Women's Rights movement in America. She also became the president of the California Woman Suffrage Association.
The Famous Marching Presidents on September 8, 2013 officially kick off their efforts to fund, build and erect a monument that honors this Nevada City couple efforts for strong women's rights. The Famous Marching Presidents welcomes your support and interest to this grand community project. Donations of time and/or money are gladly accepted.