"We the people, in order to honor and celebrate the Constitution of the United States, form a near-perfect Marching Unit, establish Community Service, insure domestic Knowledge of the Presidents, provide for the Common Amusement, promote the general Respect, and secure the Blessings and Awards of Constitution Day Parade Judges to ourselves and our Posterity, do ordain and establish the Famous Marching Presidents of Nevada City, California."
Women's Right to Vote 19th Amendment Monument to Honor Aaron Sargent and Ellen Clark Sargent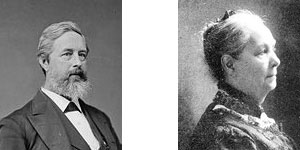 The right of citizens of the United States to vote shall not be denied or abridged by the United States or by any State on account of sex. Congress shall have power to enforce this article by appropriate legislation.
The Nineteenth Amendment of the United States Constitution.
Nevada City California known as the "Queen of the Northern Mines" has always been the center of amazing things. Since the 1850's this small mountain town located in California's historic Mother Lode has created incredible history. The town's connection to one of the world's most important human rights issue...the right for women to vote in America has strong roots here.
The 39 words that make up the 19th Amendment, the Right for Women to Vote In America, were formally introduced as a constitutional amendment January 1878 by United States Senator Aaron A. Sargent of Nevada City. Aaron and his wife Ellen Clark Sargent, both residents of Nevada City, were dedicated women's suffrage advocates.
The Famous Marching Presidents think it is time we honor that part of Nevada City history. This September 8, 2013 the group will officially kick off the drive to erect a statue to the Sargents and Nevada City's role in that important human rights issue. You are asked to join us in that effort. More information and to donate...
The Famous Marching Presidents ~ Who We Are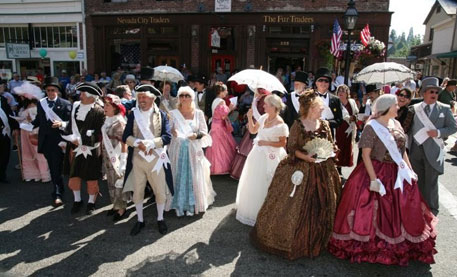 We are a unique collection of citizens who see it as their civic responsibility to portray the 44 Presidents of the United States and their first ladies in honor of Constitution Day, the signing of the document that frames this country.
On the second Sunday of September, Presidents and first ladies march hand in hand, dressed in vintage clothing, down the main street of Nevada City, Ca., accompanied by Secret Service agents and volunteers. The parade, which includes bands, civic groups and historical scenes, highlights a weekend of events throughout the town, reenactments and parties, that pay particular homage to our country's most important declaration.
Marching since 1988, our Presidents, First Ladies, and Secret Service agents have become a dynamic part of Nevada City' historic observances and local heritage. Around the country, Constitution Day is observed in schools and handful of towns, but nowhere is it celebrated with such, well, pomp and circumstance than in this tiny burg in the Sierra foothills.
On this website, Famous Marching Presidents and the curious can link to information about our patriotic participants, unique history, awards, media coverage and photographs, community and educational outreach, events calendar, info for new recruits, and opportunities for volunteering.
President's Weekend 2015
Friday Sept. 11 ~ 7th Annual Kick Off Party 5:30 pm at Jesse and Kay Connor Nevada City home
Saturday Sept. 12 ~ Enjoy Nevada City, The Farmers Market, Rotary Club Annual Duck Race
Sunday Sept. 13 ~ Noon Start at Miners Foundry Nevada City
2 pm ~ 49th Annual Constitution Day Parade downtown Nevada City
4pm ~ 28th Annual Post Parade Party Stone Room Miners Foundry
Marching Presidents Easy Pay
Marching Presidents 2013 in Parade
Famous Marching Presidents E-News
Keep the Presidents Marching!